Established in 1920, the Beaver Country Day School, located in Chestnut Hill, MA, is an independent college preparatory school housing students in grades 6-12. Currently, there are approximately 450 students enrolled at the school.
The school is undergoing a renovation project consisting of refurbishing the 15,711 square feet of the actual library and erecting a 22,500 square feet research and design center. Part of the new library will be collaboration, workshop and research spaces.
Our BCI Modern Library Furniture dealer, Red Thread, provided the Ratio Square Display Shelving with Casters for the new library. This product can be used to display or house books — making it a versatile option. The casters enable the shelving to be mobile. Color choices include a subtle grey to a bright orange.
Below are stock photos of the product used: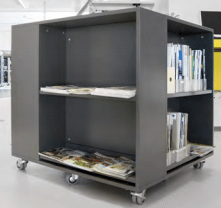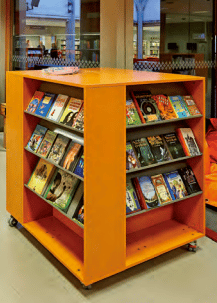 Read more by clicking here to be directed to the Beaver Country Day School website to read more about the project.
To download our Ratio Shelving brochure, click here
Click on the links below to view other projects completed by BCI Modern Library Furniture in Massachusetts
Contact us today — we have specialists standing by to answer all your questions for your project