The Hastings Public Library located in Hastings, NE has been undergoing a $5.6M renovation project. The plans include gutting the existing 29,000 square foot library and adding an additional building with another 2,200 square feet. The completed project will be a 21st century building in compliance with safety regulations, energy efficiency and the latest in technology upgrades. The library will feature a 150 person community room, outdoor patio, areas for children and young adults and an open staircase.
The firm heading up the project is The Clark Enersen Partners. Below is the architectural rendering of the building:
The BCI Modern Library Furniture dealer, Midwest Storage Solutions provided Ratio INFORM Radius Mobile Shelving for the project.
Ratio INFORM Radius Mobile Shelving provides the utmost in versatility, without compromising style. There are many design options to choose from that compliment your library project. The casters allow for ease of mobility.
Below is a stock photo of the shelving system: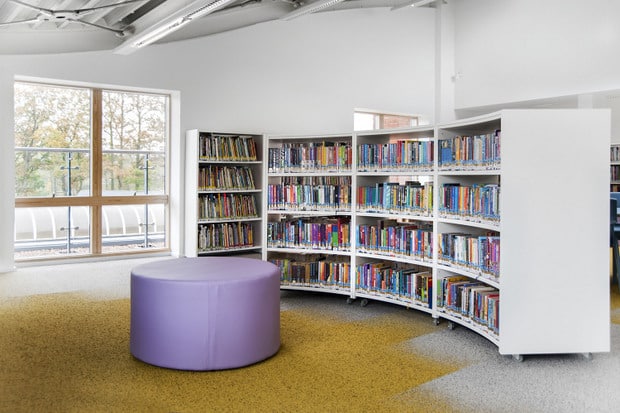 Click here to download the Ratio/INFORM Radius Shelving System brochure
For more information on BCI Modern Library Furniture, contact us today